The streets of Shanghai are running red with blood…
The big Chinese ETFs cratered about 5% Friday, setting off alarm bells and sending traders running for the exits. So you're probably wondering, are we hanging onto our China trade?
Even our behind-the-scenes Rude editor, Brian Maher, taunted me with an email in the midst of the chaos, asking me how that "trade of the year" was looking now. He even had the audacity to include a link to a flimsy Zero Hedge blog post. For shame!
So are we sticking around? I have the answer for you. But first, I have to tell you about a promise I keep every single day:
I will never tell you to hang on to a losing trade just to save face or prove I'm "right". That's not why I show up to work every morning. I couldn't care less about bragging rights or proving folks wrong. Seriously.
The only thing that motivates me is helping you make consistent trading gains, you knucklehead. If that means I have to swallow an occasional serving of crow, so be it. Just as long as I have a good beer to wash it down.
So, should you sell your China trade? No.
You should NOT sell China right now. Not because it's one of our four "trades of the year". And not because I've been uber-bullish on the China breakout since last year. No. You shouldn't give up on China because there's plenty more to make off this trend— simple as that.
But it ain't always gonna be smooth or painless…
Powerful rallies like this don't move straight up. They're occasionally going to shake the tree. And one of those big shakes occurred late last week.
Our iShares China Large-Cap ETF (NYSE:FXI) trade is up more than 21% so far in 2015 alone. But that doesn't change the fact that Chinese stocks have been the most hated, under-owned, and economically disastrous plays in the world for the past 7 years.
Remember, China never recovered after it topped out in 2007. Chinese stocks went precisely nowhere for 7 years.
But now the floodgates are wide open. All that money is now flooding into Chinese stocks. And we're seeing all of the bull market madness that goes along with it. Yes, there's crazy speculation happening right now in mainland China. Yes, people who don't know a stock from a bond are buying shares like lottery tickets. Hell, they're selling hot stock tip sheets on the streets in Shanghai.
The government is trying to reel in the mania a bit right now. In fact, China just tightened its margin rules last week.
And that's why we saw such a big drop on Friday.
But it's not the end of the world. You have to zoom out and take in the bigger picture. And when you do you realize that Friday's drop is just that—a drop in the bucket: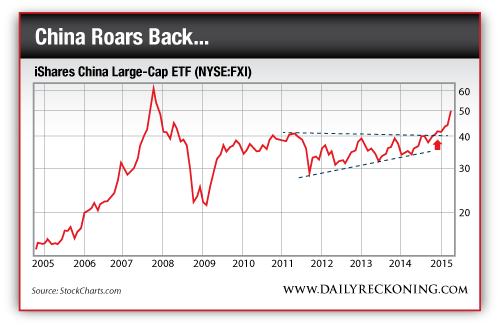 Look, Chinese stocks won't rocket straight up forever. Nothing does. But just look the left side of this chart during the "BRIC" bull of 2005-2007. We're not even close to that type of euphoria right now. Not by a long shot.
So here's the deal…
China is a buy on the dips market until the dips don't pop or we get the fireworks of a blow-off top. I'm not trying to oversimplify things—but buying the dips is the best way to handle a manic market like this one.
Think of it this way: tech stocks plummeted after Greenspan's famous irrational exuberance speech back in 1996. If you sold your stocks at that point you would have missed four years of mind-blowing gains.
Don't count out Chinese stocks early. They'll get off the mat to fight another day.
iShares China Large-Cap ETF (NYSE:FXI) remains the best play in this space. And you might want to consider adding to your position today.
And tune out all the "experts" who'll tell you otherwise.
Action to Take



BUY: iShares China Large-Cap ETF (NYSE:FXI)

[ Profit Target: 30% ] [ Downside risk: 10% ]
[Buys shares of the iShares China Large-Cap ETF (NYSE:FXI) on the dips]
Sell Now:
Nothing to sell today…
Hold:
El Pollo Loco (NASDAQ:LOCO), 4/16: LOCO jumped more than 4% to star the week…
FireEye Inc. (NASDAQ:FEYE), 4/15: FEYE staged a nice comeback…
Gilead Sciences Inc. (NASDAQ:GILD), 4/14: GILD needs to get moving the right direction…
Brazil iShares (NYSE:EWZ), 4/2, 4/10: EWZ is sitting on support…
Amazon.com (NASDAQ:AMZN), 4/9: AMZN launched off support…
Direxion Small Cap Bull 3X shares (NYSE:TNA), 4/8: TNA is back in the saddle…
Synergy Resources (NYSE:SYRG), 4/7: SYRG looks solid…
Apple Inc. (NASDAQ:AAPL), 4/1: AAPL looks ready to power higher…
Kohl's Corp. (NYSE: KSS), 3/31: KSS needs to rebound soon…
Facebook (NASDAQ:FB), 3/26: FB is on the comeback trail…
Beazer Homes Inc. (NYSE:BZH), 3/25: BZH is cooling off…
S&P 500 SPDRs (NYSE:SPY), 3/11: SPY is surviving the chop for now…
Pioneer Natural Resources (NYSE:PXD), 3/6: PXD continues to fight higher…
Google Inc. (NASDAQ:GOOGL), 2/4, 3/3: GOOGL showed us a strong bounce Monday…
JB Hunt Transport Services Inc. (NASDAQ:JBHT), 2/26: JBHT is consolidating after it's big jump…
Deere & Co. (NYSE:DE), 2/25: DE is treading water…
Guggenheim Solar ETF (NYSE:TAN), 2/13: Solars are looking strong…
Twitter (NASDAQ:TWTR), 2/12: TWTR is consolidating…
Palo Alto Networks Inc. (NYSE: PANW), 1/29: PANW is almost ready for another breakout…
iShares Russell Microcap Index Fund (NYSE:IWC), 12/10, 1/9, Trade of the year: IWC looks healthy…
iShares Dow Jones U.S. Home Construction ETF (NYSE:ITB), 11/11, 1/8, Trade of the year: ITB is at support…
iShares China Large-Cap ETF (NYSE:FXI), 11/12, 1/7, Trade of the year: FXI is getting volatile… again.
E*Trade Financial Corp. (NASDAQ:ETFC), 11/26, 1/6, 2/6 Trade of the year:  ETFC is consolidating…
PulteGroup Inc. (NYSE:PHM), 10/21: PHM is consolidating….
Trading Notes:
"Don't look now, but your usage of 'founder' is actually usable in the context you had it, despite what the reader that wanted to substitute in 'flounder'," a reader says regarding yesterday's commentary on Rude typos. "Out on the water, 'founder' means to slip below the water, as in 'the ship foundered and sank.' I guess my vocabulary's bigger than both of yours."
See? What did I tell you? I wake up to a virtual flood of emails discussing founder vs. flounder. In fact, this topic easily outnumbered questions and comments about trades by about 5 to 1.
Let's just ditch the trading talk altogether. I could publish a crossword or jumble instead. Or maybe I'll save those for a bear market…

Recent Alerts
If mainstream financial media are to be believed, all of Wall Street's operating assumptions since the Panic of 2008 have been flipped on their head. Read More