February 9th, 2017
5 Min Forecast
German gold repatriation: From "We don't care" to "Ahead of schedule!"
How gold manipulation works: Are the Germans key players?
"Running out of executive orders": Wall Street rethinks the Trump trade
Yawning and other signs you might be a terrorist: The next chapter
Questioning Druckenmiller's gold trades… the power of the juror… replies to the Trump high-pants caption contest… and more!
So Germany wants its gold back again. Maybe they even mean it this time.
Time to update a saga we last explored 16 months ago. We'll begin at the beginning…
Germany's central bank, the Bundesbank, possesses 3,378 metric tons of gold. It's the world's second-largest gold stash, after the U.S. Treasury's.
In the years following World War II, West German leaders moved almost all of the stash to vaults in London, Paris and New York. Seemed like the prudent thing to do — if the Soviets ever wanted to invade, at least the gold would be out of their reach.
In January 2013, with the Soviet Union long gone, the Germans declared they wanted to bring home the 45% of its gold reserves held at the Federal Reserve Bank of New York.
The New York Fed said, in essence, "Sure, you can have the gold back. We'll have it all shipped to you by 2020." Naturally, the seven-year interval aroused suspicion that the gold isn't there. Those suspicions were heightened when the New York Fed shipped back only a token quantity over the subsequent 18 months — 90 metric tons, out of more than 1,500.
In June 2014, Germany called off the repatriation effort. As we said at the time, it appears the only reason the effort was launched in the first place was to mollify a party in Chancellor Angela Merkel's governing coalition… and that party subsequently dropped out of the coalition.
But it turns out the story wasn't over: In October 2015, the Bundesbank issued a 2,300-page inventory of all its gold bars.
The nod to transparency came after months of public pressure led by a fellow named Peter Boehringer, who wrote a book called Bring Our Gold Home. "Trust in the Bundesbank has suffered," he told the Reuters newswire. "The Bundesbank must prove that the gold is there."
The list gave the appearance of being thorough. It included the location, inventory number, weight and fineness of every bar.
But not the serial numbers. Hmmm….
Recalling the Scottish aphorism that "possession is nine-tenths of the law"… we come back to a point Jim Rickards made in his second book, The Death of Money.
"It is more convenient for the Deutsche Bundesbank to have its gold in New York, where it can be utilized in gold swaps and gold leases, as part of central bank efforts to manipulate gold markets."
A quick refresher on how that manipulation works: Central banks lease gold bars to commercial banks… which then proceed to sell the bars to private buyers in Asia. The bars, meanwhile, never leave the vault.
Now all of a sudden comes word that Germany's gold repatriation, called off 2½ years ago, is proceeding "faster than planned," according to a dispatch this morning from Reuters.
Huh?
"Having already moved 583 tonnes of gold out of New York and Paris, the Bundesbank plans to have half its gold in Frankfurt by the end of 2017, years ahead of its 2020 schedule, with the rest split between the Federal Reserve Bank of New York and the Bank of England."
What changed?
The Reuters made it sound as if there's much hand-wringing in Germany about the future of the euro: "Some even argue the world's second-biggest bullion reserve may be needed to back a new deutschmark, should the eurozone break up."
And that's different from the last six years of eurozone drama… how?
In response to a reporter's question, Bundesbank board member Carl-Ludwig Thiele was adamant that it has nothing to do with the new American president and whether he's trustworthy.
"We have a lot of discussions about Trump, regarding implications on monetary policy, macroeconomics, etc., but we trust the central bank of the U.S. Trump has not triggered a discussion about the storage facility in New York."
No, we don't know what to make of it either. But the uncertainty serves to underline a point we've made for years.
The physical gold you own must be either in your own possession… or that of a trusted depository. A gold ETF like GLD doesn't cut it. Otherwise, you could wind up in a world of pain and disappointment.
[If you already have an adequate stash of physical gold: We want to reiterate a point we made yesterday — that everything you know about gold could change between now and Monday. But only if you watch this video right now. For reasons you'll see when you watch, we're taking it offline midnight Monday night.]
To the markets — where the major U.S. stock indexes have all pushed into record territory. At last check, the Dow is up two-thirds of a percent, at 20,188.
Gold is hanging tough in spite of renewed dollar strength: The dollar index has firmed to 100.6, but gold has shed only a few bucks, to $1,235.
In earnings-land, Twitter delivered a stinker of a revenue number; TWTR shares are down 11%. Coca-Cola met expectations but lowered its 2017 outlook; KO is off 2.5%.
While stocks are flying high, traders in other asset classes are recalibrating their expectations for a Trump presidency.
Behold the "five-year breakeven inflation rate." It's a gauge of investor expectations for average annual consumer price increases over the next five years:
"Investors," says the Financial Times, "are revisiting and rethinking expectations that Mr. Trump will be able to pass a series of pro-growth measures through Congress within his first 100 days in office."
Or as State Street Global Advisors' Michael Arone put it, "Eventually, Mr. Trump will run out of executive orders, and then he will need everybody, not just the Republicans but eight Democratic senators as well."
Well, you read it here first, weeks ago. David Stockman says the GOP Congress will act like a "circular firing squad." Heck, even the pro-Trump media contingent is getting owly: Matt Drudge is questioning the White House's commitment to repealing Obamacare.
Nearly 50 years ago, when CBS anchorman Walter Cronkite turned against the Vietnam War, President Lyndon Johnson said, "If I've lost Cronkite, I've lost Middle America."
If Trump loses Drudge…
Now a 5 business travel update: Even the TSA doesn't believe its own preposterous "behavior detection" system can root out terrorists.
Nearly two years ago, the muckrakers at The Intercept got their hands on the TSA's list of behaviors that can get you singled out for extra harassment at the airport.
Introduced in 2007, the 92-point checklist includes…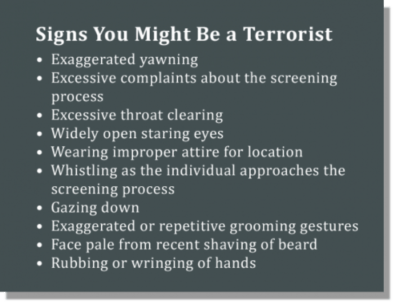 Now the TSA has coughed up further documents under the Freedom of Information Act to the ACLU. Among the revealing tidbits — an internal TSA survey in which one officer said he'd seen co-workers "make questionable decisions based on the way someone looks, i.e., cute, Asian, Black, etc." Cute?
Then there was a TSA presentation from 2006 about women suicide bombers that said "females tend to be more emotional and therefore easier to indoctrinate."
Cost of this program since 2007 — $1.5 billion, according to a recent inspector general report. Well spent!
"Do you have any proof or public disclosure of Stanley Druckenmiller's 'He sold here/he bought here' graph?" a reader writes after yesterday's episode.
"If so, what quantity? Paper gold? Options or futures? Bars? This guy is a BS artist."
The 5: To be fair, not yet. But Druckenmiller's Duquesne Family Office should be filing its 13F form with the SEC within the next few days. That ought to shed some light on his gold activity during the fourth quarter of last year.
"Regarding 'taking our victories where we can find them,'" a reader writes after we recounted an egregious court case, "I'd like to point out that, as in your example, victories can be found on jury duty.
"Juries of people like your readers, with an interest in supporting peace, prosperity and freedom, can be victorious — often with a single vote — if they are willing to serve. Any law or regulation that violates natural rights should be overthrown, and if it's also a violation of the U.S. Constitution, it's null and void anyway; all it takes is a juror to refuse to enforce it and we have found another victory.
"If you express this idea in court, however, you will be thanked and excused by the judge. (Funny how judges don't like to be second-guessed.)"
The 5: All true. A web search for "fully informed jury" will uncover a trove of good stuff about jury nullification…
And now the reader replies to our caption contest unveiled yesterday.
Strictly speaking, it's not a contest, as there's no prize. In any event, we asked, "How high are Donald Trump's pants today?" Herewith, some randomly selected answers…
"Higher than the mainstream media's regard for Neil Gorsuch."
"Higher than the chances that Liz Warren will keep her trap shut about Sessions."
"Higher than Elizabeth Warren's poll numbers."
"Higher than the border wall."
"Higher than liberals' outrage factor!"
"Higher than the swamp waters."
"Not as high as his hair!"
"So high that he now sings soprano."
"As high as everyone's expectations for him: success from his supporters and failure from his detractors."
"So high he can't see his own tweets!"
"Way higher than his understanding of the political system!"
Briefly, our own favorites…
"Any higher and he'll be able to pass as Bob Hope with hair."
"So high he has to open his fly to smile."
"As high as… you know, we could never do this with Bill Clinton."
One fellow with time on his hands came up with five, all "higher than"…
"The tension in a Planned Parenthood facility."
"Snoop Dogg."
"The proposed Mexico border wall."
"The unfunded liabilities of Medicare."
"My health insurance deductible."
And another fellow with even more time on his hands came up with 10, all "so high he can"…
1) "Hide his high-waist thong."
2) "Distract the media (and The 5, and me) with a frivolous topic while he contemplates other issues."
3) "Draw attention away from the Al Jazeera broadcast logo."
4) "Give his hair a break in news coverage."
5) "Hold the nuclear 'football' so his Secret Service agent can run to the restroom."
6) "Wade more easily through the swamp."
7) "Make it harder for the Deep State to catch him with his pants down."
8) "Hold plenty of cash in case the war on cash gets really, really out of hand."
9) "Smuggle enough silver to make even J. P. Morgan jealous."
10) "Hide secret Chinese blueprints for the Great Wall of China."
And one final thought from a reader: "It's not so much 'How high are Donald Trump's pants?' as how long is his tie."
The 5: Yeah, we thought about that. But it does seem to be a combination of the two…
Best regards,
Dave Gonigam
The 5 Min. Forecast
P.S. In case you haven't seen it yet…
Thanks to an obscure Social Security contract just like this one, you could receive four deposits of as much as $6,880 in 2017…
No matter your age or income level… Without having to pay extra taxes… And without affecting your Social Security checks. If you act before April 21, you could be the next one to receive these deposits from the private sector.
You just need to put your name on the list of recipients. Click here to see how.