September 24th, 2020
5 Min Forecast
Vaccines: Better, cheaper, faster
The perils of "short circuiting" the vaccine trial process
Is Nikola the new Theranos? (bizarro plot twist)
JPM takes its lumps — meh — for gold manipulation
Squashing Black Friday deals
Qantas peddles PJs and more
A well-informed reader on a third vaccine alternative

We pick up today where we left off with our lead item yesterday — about the unprecedented speed with which a COVID-19 vaccine might win federal approval, be it either before or after the election.
To recap, we said…
Either the federal government will be taking unprecedented risks with the health of millions, and the result could be catastrophic
Or the federal government's standards for approving vaccines and drugs are entirely too strict and need a total overhaul.
And no, neither reflects well on the federal government.

"What would be incredibly dangerous is to short circuit the trial process," says longtime friend of The 5 Juan Enriquez.
Mr. Enriquez is something of a renaissance man. But for our purposes today, the key items on his CV are 1) founder and former director of the Life Sciences Project at Harvard Business School and 2) co-founder and current managing director of Excel Venture Management, a venture capital firm that funds biotech startups.
Our fearless leader Addison Wiggin recently caught up with Juan for a conversation — part of Addison's exclusive interview series for the Financial Reserve, our VIP suite of services.
"What would be incredibly dangerous," Juan says, "is to short circuit the trial process, hurt a lot of people and hurt the credibility of vaccines as a whole for the sake of a political election. That would kill millions of people, not just hundreds of thousands of people. We don't want to do that."
So being first with a vaccine isn't the key. It's being first and being right. Whoever does that stands to make its investors immense fortunes.
"The key in life sciences, it's a funnel," Juan explains. "The chances that a molecule gets to a stage where you begin to put together an initial testing are low, and then the chances that you get to Phase 1 are lower, and then the chances you get to Phase 2 are lower and the chances that you get to Phase 3 are lower.
"At each stage you're substantially increasing the value of these companies. Every step you take… the reward probability increases."

Still, the pandemic is accelerating the process by which new vaccines and drugs come to market — and that's for the good.
It's not unlike the phenomenon of people working from home in their sweats and conducting meetings on Zoom.
"The reforms that would have taken decades in our 'sclerotic' system have now been put in place," says Juan. "And very quickly. There will be some pullback, but it won't go back to the way things were."
Better, faster, cheaper — in stark contrast to the way pharmaceuticals have been regulated for the last three or four decades.
Juan took a look at the biotech portfolio recommended by our Ray Blanco… and liked what he saw. Access here — no long video to watch, either.

To the markets — which are treading water, although today it's the Nasdaq's turn to take the lead.
At last check the Nasdaq is up a half percent on the day, approaching 10,700. The S&P 500 is flat but still comfortably above support at 3,200, while the Dow is slightly in the red around 26,700.
Gold is licking its wounds after this week's beat-down at $1,867. Silver has sunk below $22.50. Crude is little changed, a few pennies below $40.
Among the big movers today — the electric truck maker Nikola, down another 4.5% today. The NKLA saga has taken another bizarro turn, with founder Trevor Milton deleting his Twitter account…
Uh-huh. The feds are now investigating NKLA, following up on a short seller's claim that Nikola's fabulous battery basically doesn't exist.
Gee, who thought we'd have a story like this one so soon on the heels of Theranos?

It being Thursday, we check in with the little chart of horrors…
The number of first-time unemployment claims has been mired in the high 800,000s for four straight weeks now — still stubbornly higher than the pre-pandemic record dating back to the "double-dip" recessions of the early 1980s.
Elsewhere, new home sales surged 10.5% in August — way more than expected — and the past three months' figures have been revised higher. And get this: Supply is crazy-low, only 3.3 months' worth… but the median price for new construction fell 4.6% in August to $312,800. Something's gotta give…

From the disappointing-but-not-surprising file: JPMorgan Chase is set to pay a $1 billion cost-of-doing-business penalty for precious-metals manipulation.
Bloomberg was first to break the story yesterday. "A penalty approaching $1 billion would far exceed previous spoofing-related fines. It would also be on par with sanctions in many prior manipulation cases, including some brought several years ago against banks for allegedly rigging benchmark interest rates and foreign exchange markets."
OK, but $1 billion amounts to less than 1% of JPM's annual revenue. Sorta puts it in a different perspective, doesn't it?
Spoofing, as a reminder, is the practice of overloading the derivatives markets with orders that traders have zero intention of actually executing — with the aim of moving prices one way or another.
The Financial Times advanced the story: "A settlement would end investigations by the Department of Justice, the Securities and Exchange Commission and the Commodity Futures Trading Commission into the bank's culpability for spoofing by its traders in gold, silver, other metals and U.S. government bonds… Two people familiar with the situation said that the settlement would not result in any restrictions on JPMorgan's trading or operations."
We're too exhausted by the events of this year to be outraged…
Heads up: Expect shortages of popular holiday gifts this year.
"Newly compiled industry data show retailers slashed orders for merchandise at the height of the lockdown in the spring, only to be wrongfooted by unforeseen customer demand," says the Financial Times.
Between the trickle-down of Fed money printing and Uncle Sugar's "stimulus" payments, consumers have more money to spend than retailers were counting on. Spring is when sellers typically order from wholesalers for the holidays, and spring was the peak of the lockdowns.
So they dialed back big-time on their orders… and for the goods they did order, they frequently ran into supply-chain issues.
Result: According to an analysis the FT commissioned from the big-data firm Sentieo, 33 of the biggest U.S. retailers had 9% less inventory at the end of July than they did a year earlier. At the same time, those same retailers generated second-quarter sales 6% higher than a year earlier.
"There's simply not enough product," BMO Capital Markets retail analyst Simeon Siegel tells the salmon-colored rag. "Surprisingly or not, demand is outstripping supply."
Especially tight — fitness gear, electric appliances and several varieties of apparel, including footwear.
Yeah, don't expect super-crazy Black Friday specials this year…

Desperate airlines resorting to desperate measures…
For lack of demand, the Australian airline Qantas retired its fleet of Boeing 747s ahead of schedule this summer. Aussies could get a fully stocked 747 bar cart for A$1,474.70 — or about US$1,043.
From the listing: "Includes a range of Business Class items, including Champagne, mini bottles of red and white wine, Tim Tams, iconic Qantas pajamas, an exclusive Qantas First Class Sheridan throw and more."
In addition, "Please check the best-before dates of all products, as some of them may expire in the coming months. Fifty percent of the mini bottles included have a best-before date of January 2021 and 50% of bottles have a best-before date of April 2021."
Delivery was available only within Australia, but no matter — they've already sold out.

"Your either/or dichotomy about vaccine approval has a third option," a reader writes.
"I recently spent a couple of years dipping back into graduate school to study bioinformatics. Fascinating stuff.
"The third option is 'Things are suddenly completely different in the science of vaccine-making.'
"Science hasn't ever developed a human vaccine for any form of coronavirus, it's (mostly) true — though we might well have gotten one figured out for SARS and/or MERS by now if there had been a reason to do the development that was even a tenth as good as what COVID-19 is giving us.
"However, SARS and MERS stopped being big issues in 2003 and 2015. At this point, COVID-19 obviously is not just going to go away the way SARS and MERS did; it's still spreading unpredictably, and we're still incredibly far away from herd immunity — 7 million cases in the U.S. is a lot of cases, but it's still only 2% of the U.S. population.
"But… in 2003 it cost about $3,000 to sequence a million base pairs' worth of DNA. This meant that, in terms of their ability to pick a virus apart and see exactly what it was made of, scientists working on vaccines were wearing the equivalent of oven mitts and welder's goggles — they were at a huge disadvantage. By 2012 when MERS showed up, the 'cost per raw megabase' had dropped from $3,000 to less than 10 cents. This was Moore's law on steroids, and that's putting it mildly.
"Now it's 2020 and the cost per raw megabase is down to less than a cent, and our ability to synthesize made-to-order DNA sequences has expanded proportionately.
"We're now very suddenly living in a completely different world as far as DNA technology goes. Not surprisingly, both our current laws and our current expectations about vaccine development speed are lagging a decade or two behind current reality. We have virus-studying tools and vaccine-building tools available today that are far beyond scientists' most optimistic dreams 20 or even 10 years ago.
"In a situation like this, comparisons with how long vaccines used to take to develop are pretty much completely irrelevant. We're in uncharted territory here — which is very possibly why there are 40 different COVID-19 vaccines being tested right now, with more on the way.
"That's not to say that a working, safe COVID-19 vaccine is a sure thing, by any means. But it's actually very plausible that the development of a vaccine can happen much, much faster today than it ever could before, and that it doesn't *necessarily* follow (for a change) that the federal government is doing anything terribly stupid in this area, either now or in the past.
"Stay healthy and keep your fingers crossed."
The 5: We shall…
Best regards,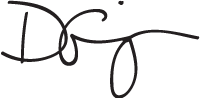 Dave Gonigam
The 5 Min. Forecast
P.S. Congratulations to readers of Seven Figure Signals. This morning, Greg Guenthner urged them to take 57% gains from options on Darden Restaurants.
Yes, there's more where that came from — as Greg's publisher shows you at this link.