February 1st, 2022
5 Min Forecast
The caretaker government comes for crypto
Zuckerberg sells Libra/Diem for parts
Gold chart: Check out the "pennant formation"
Great moments in law enforcement and censorship
Locked out of your bank? Try this.

Yeah, so this headline is a little overblown…
Bloomberg was first with the story last week, citing the usual "anonymous sources familiar with the matter": The president would sign an executive order governing crypto sometime this month.
Barron's one-upped Bloomberg with a "scoop" that breathlessly reported the executive order would treat crypto as a matter of "national security."

But as further details emerged, it became apparent the White House is still trying to wrap its collective head around what this whole crypto thing is even about.
(Maybe they should read our ultimate beginner's guide, The Big Book of Crypto? On second thought, it's better we don't give the bastards any ideas.)
The National Security Council, the State Department, the Treasury Department, the National Economic Council, the Council of Economic Advisers… they'd all have their fingers in the pie, and they'd have anywhere between three and six months to generate proposed regulations.
Crypto, stablecoins, NFTs — every aspect of digital assets would be fair game.
Barron's had its own anonymous source who said, "This is designed to look holistically at digital assets and develop a set of policies that give coherency to what the government is trying to do in this space."
("Holistically" — Gag…)
So what are we to make of these developments?

Well, as our own crypto evangelist James Altucher has said for years now, regulation is coming — and it might very well have the counterintuitive effect of strengthening the crypto market.
That is, regulation would give the crypto space a measure of respectability that would attract more investors — both individual and institutional. If their excuse now is that crypto is too much like the "Wild West," well, the feds are about to take that excuse away.

That said, if we're looking at a process stretching into the summer… then we can expect many weeks and months of media leaks about how this process is proceeding. Which means we can expect many weeks and months of knee-jerk reactions to overblown and misleading headlines — both on the upside and the downside.
Admittedly that's not exactly what the market needs right now when many cryptos are still down 40% or more from their peaks in November.
But James believes this moment opens up an exceptional opportunity in a select group of cryptos he's been eyeing for some time now.
He believes they have the same potential as Filecoin did some years back — an opportunity he seized on in his own portfolio to parlay $25,000 into over $2 million.
James' team has just recorded an urgent update to bring you up to speed on the situation. Best follow this link and check it out right away — before the next headline breaks and opportunity passes you by…

A crypto postscript, just for the record: Facebook parent Meta Platforms is giving up on its star-crossed crypto venture.
With much fanfare, FB announced Libra in June 2019 — a stablecoin whose value would be fixed against a basket of major global currencies and government debt.
In essence, "it was a brilliant plan for Mark Zuckerberg to skim profits off your money without a banking license," explains our macro maven Jim Rickards.
"Basically, you would give dollars to Zuck for Libra. Zuck would invest the money in government securities and bank deposits. When you cashed out, you would get your money back, but Zuck would keep the profits on the securities and deposits. He would make money off your money without putting up any capital. You would be making interest-free loans to one of the world's richest men.
"The plan had problems with regulators from the start. They saw the same skim I just described. There was talk of requiring Zuck to at least get a banking license and put up some capital like a real bank.
"Then the project changed the name of the crypto from Libra to Diem. Then the backing was changed from a currency basket to just U.S. dollars."
And now it's over: "Zuck is selling it for scrap value to a small California bank called Silvergate Capital." Besta luck…

The stock market is off to a sputtering start in February… after a January the media quickly remind us was "the worst month since March 2020."
At last check, the major averages have all barely budged from yesterday's closes — the Dow at 35,153… the S&P 500 at 4,514… and the Nasdaq Composite at 14,226.
As you might recall, our Alan Knuckman said yesterday if the S&P 500 could hoist itself back above 4,500, it would have recovered half of the losses from its peak a month ago and that would be an encouraging sign for the market overall.
We're there now… but it's not necessarily an "all clear." Alan's still eyeing the tightly focused Nasdaq-100 index. It's up sharply from its lows last Thursday… but at 14,888 this morning it still has some damage to repair. The level to watch there is around 15,300.

Gold has once again pushed past $1,800… but how many times have we said that in the last two months only to experience heartbreak? (Four, we'd guess…)
In any event, something's gotta give. Check out this "pennant formation" on a chart furnished by TradingView…
One thing's for sure: The price will not stay confined within those blue lines. If you haven't yet accumulated the 10% gold allocation in your portfolio that Jim Rickards recommends, you might want to wait a few days to see which way the Midas metal will break.
Elsewhere in the commodity complex, crude is inching higher at $88.27.
Cryptos are generally in the green, Bitcoin about $50 away from $39,000 and Ethereum only $13 away from $2,800.
The big economic number of the day is doing nothing to tamp down talk of an "economic slowdown."
The ISM Manufacturing Index for January clocks in at 57.6. Yes, that's well above the 50 dividing line between a growing factory sector and a shrinking one… but the number is also the lowest since November 2020.
Economists are furiously dialing back their projections for GDP growth. Goldman Sachs figures the U.S. economy will grow 3.2% this year, down from its previous guess of 3.8%. Meanwhile, the Federal Reserve Bank of Atlanta has its closely followed "GDPNow" model projecting the current quarter's GDP. After taking the ISM number into account this morning, the latest annualized estimate for Q1 is… a miserable 0.1%.

If this is the Biden administration's approach to legal cannabis, the cannabis industry's going to have a tough row to hoe.
Bear in mind sales of recreational weed have been legal in California since January 2018 as you read this passage from the Los Angeles Times…
"The driver of an armored car carrying $712,000 in cash from licensed marijuana dispensaries was heading into Barstow on a Mojave Desert freeway in November when San Bernardino County sheriff's deputies pulled him over. They interrogated him, seized the money and turned it over to the FBI.
"A few weeks later, deputies stopped the same driver in Rancho Cucamonga, took an additional $350,000 belonging to legal pot stores and gave that cash to the FBI too.
"Now the FBI is trying to confiscate the nearly $1.1 million bounty, which it might share with the San Bernardino County Sheriff's Department. The FBI says the money is tied to federal drug or money-laundering crimes, but has specified no unlawful conduct and charged no one with a crime."
"Civil asset forfeiture" is not new, especially not if you've been reading The 5 for a while… but "this is among the more egregious forfeiture cases that we've seen," says Dan Alban of the Institute for Justice.
The IJ is providing legal counsel to Pennsylvania-based Empyreal Logistics, the company whose armored trucks were — well, there's no other term for it, legally robbed.
Empyreal is asking a federal judge to order the feds to return the cash… and to stop these seizures unless there's evidence of illegal activity. The company says the sheriff's office had no business confiscating the money because California law protects financial institutions serving pot dispensaries.
As for the feds' role… sorta belies the president's campaign promise in 2020 to let the states "continue to make their own choices regarding legalization," no?
We'll continue to monitor the situation… and what it means for the legal cannabis industry. Seriously, this is the most disturbing development we've seen since we declared cannabis a safe sector in which to invest in 2016.

Great moments in social-media censorship…
Coincidentally or not — cough, cough — Google's YouTube unit has limited the distribution of two viral videos depicting the anti-mandate trucker convoy in Canada.
Here's the thing, though: "Both videos are currently up and watchable while logged out," writes Chris Menahan of the InformationLiberation website. (Here's one, and here's the other, if you're curious.)
"This new censorship scheme allows YouTube to not only limit the number of viewers to a livestream but also track who is watching."
In fairness, the policy might not be new and might well apply to videos that don't touch on controversial subjects.
But the policy sure is convenient for purposes of suppressing images the power elite would rather you not see.
Meanwhile, the elite pushback is becoming fierce…
… with MSNBC's Mika Brzezinski denouncing the movement as a "cult." Sheesh…
Oh, and one more choice thought on a related topic…
The latter is a reference to the Federal Reserve, by the way…

"Two banking thoughts," says the subject line of a reader's email…
"First off, love The 5! I jumped in AFTER the crash of '08. Not going to make that mistake again."
[We're not sure what mistake you're referring to, but go on…]
"For the unfortunate gent who got locked out of his bank, I suggest working with a local credit union to see if he can get back on his feet. They are supposedly 'owned' by the depositors, so they may be more flexible.
"Double bonus for the day — my latest in the 'war on cash.' I've taken regular ATM withdrawals over the years (since reading your newsletter) for freedom purposes.
"Just recently, my bank did an about-face on the denominations they dispense from the ATM. It used to be $20s only. Now they are dispensing $50s and only $20s when needed to even out the amount requested. I have found it's MUCH more difficult to 'break a $50' than spend $20s at local retailers. Is that on purpose? I wonder if others have the same experience."
The 5: The reader writes to us from the Florida panhandle. That's a new one on your editors — Emily in metro Baltimore and me a couple hours from the nearest interstate highway.
What's your experience where you are? Drop us a line… feedback@5minforecast.com
Best regards,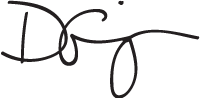 Dave Gonigam
The 5 Min. Forecast