September 1st, 2020
5 Min Forecast
Rhodium: On track for more record highs?
Gold or silver? One number delivers an answer
Major pension fund takes a position in gold
World's biggest hedge fund owns how much gold now?
1,200 lawyers to litigate a contested election result
The beginning of the end of the MBA (bring it on)
Fascism is in the eye of the beholder

Rhodium's epic run isn't over yet.
We begin a series of quick hits on precious metals today with a rhodium update. As a reminder, rhodium is one of the lesser-known members of the "platinum group metals" along with platinum and palladium. All three are used to clean up emissions from cars and trucks.
In March of last year, we took note of rhodium's 35% leap within a matter of weeks — to $3,000 an ounce. We also lamented the fact there's no "easy" way to play rhodium… but we said if your brokerage account gives you access to London-traded shares, you could take a flyer on the Xtrackers Physical Rhodium ETC Fund — ticker symbol XRH0. (That's a zero at the end, not an "O.")
By last January, rhodium had zoomed past $9,000 an ounce. We suggested perhaps selling half and letting the rest ride.
Then the corona-crud hit — prompting panic selling. And as the year went on, panic buying.
So what now? A report from BMO Capital Markets informs us the pandemic has severely disrupted mining output in South Africa — home to 80% of global rhodium production. At the same time, "The recovery in auto sales is boosting demand, particularly given the lack of alternatives in catalyst chemistry given rhodium's role in reducing NOx (nitrogen oxide) emissions.
"Given this, it is possible to see further new highs over the coming weeks."
Supply and demand, baby…

Meanwhile, silver is no longer the bargain it was, relative to gold, earlier this year.
As we write this morning, the bid on gold is $1,976… and on silver, $28.38. A bit of long division and we see the gold-silver ratio rests a hair below 70.
Six weeks ago we took note of how the ratio set a multidecade high of 127 during peak corona-panic in March… settling to a still-high 97.8 at the end of June. We cited a report from the Silver Institute suggesting silver remained undervalued relative to gold.
That is no longer the case…
Zooming out past the five years covered by that chart, the ratio appears to be right in line with the long-term trend going back 50 years.
If the question right now is "Gold or silver?" the answer is "Both!"

Straw in the wind: A major pension fund has just plunked 5% of its portfolio into gold.
With guidance from its investment consultant Wilshire Associates, the $16 billion-strong Ohio Police & Fire Pension Fund recently approved a 5% allocation to the Midas metal.
"OP&F and Wilshire believe that the addition of gold will give the portfolio a strong diversifier to its growth-oriented investments as well as provide an effective hedge against inflation," says a statement from the pension fund.
Reminder: At present, gold makes up a microscopic percentage of the globe's financial assets — at most, about 0.5%.
If other pension funds — to say nothing of insurance companies, university endowments and the like — follow OP&F's lead, that percentage is bound to rise. And along with it, the gold price.

Along those same lines, the world's biggest hedge fund poured nearly a half billion dollars into gold during the second quarter.
According to its quarterly 13F filing with the SEC, Bridgewater Associates plowed $406.7 million into the two big gold ETFs — GLD and IAU. Those two positions now total $1.18 billion, out of a total stock-and-ETF portfolio of $5.96 billion.
No surprise, really: Just over a year ago, we took note of an essay penned by Bridgewater founder Ray Dalio, saying, "It would be both risk-reducing and return-enhancing to consider adding gold to one's portfolio."
Oh, and Bridgewater's total gold holdings might be higher: Fund managers are obligated to report only their holdings of "paper gold" on their 13F forms — ETFs, options, futures, swaps, etc.
Gold bullion? They don't have to disclose that to the feds.
[Ed. note: It's at this point where it's logical to remind you that if you want exposure to bullion — real metal you can hold in your hand or store in a vault — your go-to source is Hard Assets Alliance.
Gold, silver, platinum, palladium — they have it all. (Sorry, no rhodium!) You can take delivery, or you can store it securely in New York, Salt Lake City, Zurich, London or Singapore. (If you want bullion for your IRA, you have to store it domestically — that's the law.) Get started at this link.
As always, the disclaimer: Our firm owns a piece of Hard Assets Alliance. So count on us collecting a small cut once you fund your account. But even after we collect that cut, you'll be paying among the lowest premiums in the industry.]

After wrapping up the best August since the 1980s, the stock market is pushing still higher today.
As usual, the Dow is lagging — up less than a quarter percent — while the Nasdaq is powering further into record territory, up nearly 1% and only 13 points away from 12,000.
The day's big economic number is the ISM manufacturing index — up handsomely from 54.2 to 56.0. Anything above 50 means the factory sector is expanding and the number has pointed to expansion for three straight months.
Alas, the only component of the index that's not showing improvement is… employment.

Countdown to a contested election result — T-minus 62 days now.
We've been on record for the last four weeks that nothing will be settled on election night, Nov. 3 — and might not even be settled by Inauguration Day, Jan. 20. Now our Jim Rickards passes along word that the Trump and Biden campaigns have both "staffed up with about 600 lawyers each to contest the election results.
"This potential election struggle presupposes that key battleground states will be close and state-by-state results will not be known because it may take days or weeks to count the millions of expected mail-in ballots.
"This opens the door to legal challenges based on unsigned ballots, late delivery, nonpostmarked ballots, ballots mailed without postage and ballots misdirected or otherwise not delivered by the U.S. Postal Service. Other lawyers will seek court orders asking the polling stations be held open late because of long lines or other types of alleged voter suppression…
"Election Day may just be Round 1 of a 15-round fight. Once the legal contests get going, the riots in the streets may be right behind. This will be an election night to remember — and not in a good way."

The pandemic appears to be killing off the allure of an MBA.
"Business school students are bracing for an uncertain job market this coming school year," says the front page of today's Wall Street Journal, "as many traditional corporate recruiters shelve their usual fall hiring plans."
We don't see any numbers behind the Journal story, only anecdotes. PricewaterhouseCoopers will pass on hiring its usual 100 second-year MBA students this fall. Bain & Co. is cutting back. Ernst & Young is waiting to see what happens with the virus this fall.
All we can say is, bring it on. There are way too many MBAs. Two years ago, we cited an estimate that during the 1950s, American universities were cranking out fewer than 5,000 of 'em per year. By 2005, the number had exploded to 142,000 — and swelled further to 185,200 by 2015.
We defied anyone to demonstrate that American business or the economy was better off for this proliferation of paper. Indeed, there might be an inverse relationship…

"Hey, I really respect you guys," begins today's mailbag…
[Wait for it. That three-letter word…]
"… but the fascist Trump policies are everywhere.
"I have a long list but will just name a few. First, manipulation of the people's post office to try to rig the election in his favor and remain in power. Second, manipulation of the Justice Department (which is supposed to be blind and nonpartisan) to, shall we say, 'adjust' the sentences of his convicted co-conspirators, allies and friends. Third, diverting our military stopovers to his financially struggling five-star golf course/hotel in Scotland, instead of their usual destinations. This has incurred additional expenses, paid by 'We the People,' which now line his pockets. A flagrant abuse of the Emoluments Clause of the Constitution.
"Lastly, violating the Hatch Act to convene his convention on the grounds of the White House, incurring expenses for every taxpaying citizen. To that I say, GET OFF OUR LAWN!!! I truly can't see how anyone could miss this stuff. I'm just a dumb blond from flyover country, but it's all right out in the open."

"Wow, I mean wow. You're not seeing fascism?" says another.
"You're not seeing abuse of power? You're not seeing decisiveness? You're not watching him piss on the Constitution? You're not seeing him violate a free press?
"I guess next you'll tell us you don't hear him lie over and over!! I read with open eyes but was wowed by that passage. I think I'll go drink some bleach now. WTF."
The 5: OK, we should have qualified our assertion. We're not seeing fascism from the Trump administration as Democratic partisans define it.
Sure, they scream about Trump's putdowns of CNN's Jim Acosta as somehow threatening a free press. Meanwhile, they look the other way at the Trump Justice Department's prosecution of Julian Assange — which poses the most profound threat to press freedom since World War I. But because WikiLeaks made Hillary Clinton look bad in 2016, they're OK with that sort of fascism.
Yes, we're troubled by the "dumb blond's" laundry list. (Well, some of it, anyway.) In addition, we're troubled by the way Trump's madcap proclamations make it challenging for business to make long-term plans — to wit, the poor schlub who left his cushy gig at Disney this spring to become CEO at TikTok, only to find his new company suddenly the target of a presidential jihad that appears to be little more than a China-bashing reelection ploy.
But we're also troubled by the deep state's obvious attempts to subvert the results of the 2016 election — the bogus Steele "dossier," the bogus FISA warrant on Carter Page, the bogus prosecution of Michael Flynn and so on. (Flynn's a dangerous dude, but that doesn't alter the fact he was lured into a blatant perjury trap.)
A pox on all of 'em. The best thing that could happen is each side brings about the other's demise, and we can get a fresh start as a free country…
Best regards,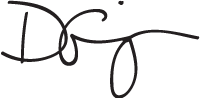 Dave Gonigam
The 5 Min. Forecast
P.S. Nine months ago, we first suggested the prospect of a looming constitutional crisis. At the time, gold was going for $1,469. Again, it's at $1,976 today.
If gold is a crisis hedge, and we're plunging deeper into crisis, that suggests gold has much further to run. $3,000 before year-end isn't out of the question.
Got gold? Got enough gold? If not, go here.