February 5th, 2021
5 Min Forecast
Mittengate: Bernie Sanders' mitten maker…
… and taxes "to the nth degree"
(Wall Street) When bad news is good news
Janet Yellen shows surprising self-restraint
Bitcoin's under-the-radar rally
Ray Blanco on Musk's Starlink and "ground control"
Readers on pricey Le Big Mac… GameStop and "painting the tape"… A variation on the "I like The 5 but" trick… And more!

Ponder the irony: The Bernie Sanders mitten lady is unable to turn her mittens into a viable business. Or maybe it's not so ironic after all?
Assuming you haven't been living in a cave the last two or three weeks, you're surely aware that the junior senator from Vermont became a viral sensation on Inauguration Day — sitting alone and looking his most curmudgeonly in a distinctive pair of oversized mittens.
The internet quickly went to work, photoshopping Sanders' surly self into everything from Forrest Gump's park bench to… Nancy Pelosi's lectern?
The mittens were made by a Sanders constituent named Jen Ellis. Naturally, folks wondered where they could get their own.
Ellis was interviewed the day after the Inauguration by Slate. "People have been contacting me thinking that they can get mittens, and actually they can't," she said. "I don't have any more, and I don't have much of a mitten business anymore because it really wasn't worth it."
Really? Why not?

"Independent crafters get really taken for a ride by the federal government," she went on. "We get taxed to the nth degree, and it wasn't really worth it pursuing that as a business, even as a side hustle. I mostly just make them as gifts."
Of course, a real journalist would have asked her how independent crafters get taxed to the nth degree. Instead the interviewer left it hanging.
We're genuinely curious. Is there some quirk in the tax code that punishes independent crafters? Seeing as we have the most diverse and engaged readership of any financial e-letter, we figure someone among the ranks of our readers will know. Drop us a line if you can shed any light.

Stocks are drifting higher as the week draws to a close — perhaps on the "bad news is good news" phenomenon.
It works like this: A lousy economic number produces a rally on Wall Street, because lousy economic numbers ensure the Federal Reserve will continue pumping out EZ money to further inflate financial assets.
The monthly job figures this morning are indeed lousy. The wonks at the Bureau of Labor Statistics managed to conjure only 49,000 new (or revived) jobs for January.
Yes, the number is greater than zero… but it barely begins to make up for last month's losses. On the big chart from Calculated Risk, showing the trajectory of job losses and recoveries in every recession since World War II, the red line has more or less flat-lined…
Click here to enlarge
And we're still worse off than we were at the nadir of the Great Recession's job losses.
The official unemployment rate dropped from 6.7% to 6.3%. So did the real-world unemployment rate from Shadow Government Statistics — from 26.2% in December to 25.7% in January. But that's still substantially worse than any time pre-pandemic.

Yet the S&P 500 and the Nasdaq are powering still higher into record territory.
At last check, the Nasdaq is four points away from 13,800… and the S&P is 14 points away from 3,900. And the Dow is up strongest today, pushing past 31,206. If that holds by day's end, the Big Board will also notch a record close.
Among the noteworthy movers is Ford — up 1.75% despite a hit to fourth-quarter earnings and an announcement it will cut production of the F-150 and other vehicles because of the global semiconductor shortage our Ray Blanco warned about here in mid-January. That's on top of GM cutting shifts at some of its factories, as mentioned here yesterday.
| | |
| --- | --- |
| ➢ | In a refreshing instance of restraint, Treasury Secretary Janet Yellen says there's no rush to come up with new regulations after the revolt of the Redditors these last few days. After meeting with other regulators yesterday, she said, "We need to understand deeply what happened before we go to action, but certainly we're looking carefully at these events." Then again, maybe she's contemplating how to avoid more conflicts of interest in light of the speaking fees she collected from Citadel? |
Gold, which sank below $1,800 yesterday, has pulled back above that level to $1,807. Silver's on the mend, too, at $26.48.

"Interest rates will drive the price of gold in the near term," asserts our Jim Rickards — and that's a bullish sign.
The yield on a 10-year Treasury has climbed steadily the last six months — from barely 0.5% to 1.15% this morning.
"This rise in the 10-year note rate has corresponded almost perfectly with the decline in the dollar price of gold," Jim says. "Gold peaked at $2,069 per ounce on Aug. 6, 2020 (just as yields bottomed) before beginning a relentless decline to today's levels."
Rates have risen along with expectations of rising inflation. But that rising inflation has yet to materialize. The Fed's preferred measure of inflation stalled out during the fourth quarter of last year.
Which means "yields on 10-year Treasury notes are out on a limb," Jim asserts. "They reflect market expectations of inflation, which are not confirmed in the real economy. Other data points decisively to weaker growth, lower yields and continued disinflation bordering on deflation.
"The turnaround in the 10-year note yield-to-maturity is coming soon. When it does, it will be abrupt, pushing yields back below 1.00% and perhaps to the levels reached last August. When that happens, gold prices will soar past $2,000 per ounce and headed higher."

Bitcoin has staged an under-the-radar rally for much of this week — from a low near $32,000 on Sunday to nearly $38,000 as we write.
Our crypto evangelist James Altucher says it's no coincidence the rally started when Tesla CEO Elon Musk said during an interview, "I think [Bitcoin] is on the verge of getting broad acceptance by conventional finance people."
As if to affirm Musk's prediction, Visa announced on Wednesday that it's developing methods to allow banks to process Bitcoin transactions.
"Rather than fighting the trend toward digital currencies," says James, "Visa is apparently embracing an inevitable future where digital currencies could replace the need for its payment network. To get ahead of the trend, the company's latest offering will allow it to reposition itself as the bridge for banks to connect to the digital currency markets."
And for icing on the crypto cake, another finance bigwig said kinda-sorta nice things about Bitcoin this week — Bridgewater's Ray Dalio. That's in addition to other names in recent weeks like Stanley Druckenmiller and Paul Tudor Jones.
Speaking of Elon Musk, his SpaceX venture plans to launch another 60 of its Starlink internet satellites this weekend.
The launch from the Kennedy Space Center in Florida was set for early today, but now it's been pushed back to early Sunday "to allow time for additional rocket checks, as well as for the company to unload the payload fairings captured after another Starlink flight," according to Space.com.
But it's another Starlink launch last month that caught the attention of our science-and-wealth maven Ray Blanco: For the first time, 10 of them were launched into polar orbit to serve Alaska and other northern reaches of the planet. "Musk confirmed that this batch of satellites has laser links," Ray says.
"According to Via Satellite, laser links between these 10 sats means that there will be no need for ground stations."
In other words, direct connectivity from a phone to the satellite, like those pricey Iridium phones. No cell tower acting as the middleman.
"There are still things to be figured out," Ray allows. "Cost is still a concern. But even as they work out the most cost-effective way to get internet from space to us, SpaceX is making huge strides."
Reminder: While SpaceX remains a privately held company, Ray has found the perfect "backdoor play" on its revolutionary technology.

"Doubling the minimum wage is just a bad idea. Can't people see that small businesses will end up laying off people?" a reader writes on a topic that probably won't be going away soon.
"And what about the quality of work? Fast-food people can't even get your order right in the drive-thru for $7.00/hour, so how is that going to help cut down on the errors? Also, all it will eventually do is make companies raise the prices of everything, so all those low-paying jobs will be right back in the same situation that they are in now. And it will bring the fewer middle-class people closer to poverty if they don't get a huge raise.
"I lived in New Zealand in 2013 and the minimum wage there was over $13/hour. Guess what? Prices are outrageous there. No Dollar Menu at McDonald's. Paid almost $5.00 for a Big Mac and that's what will eventually happen here too. It's a vicious cycle. The pay raise will help in the short run, but as stated before, the people earning those wages will be back to where they are today."

On the GameStop saga, a reader writes: "'Painting the tape' has been an illegal practice ever since 1939.
"Of course these novice traders have no idea what 'tape' means, but conspiring to move stock prices is a felony. The guys doing it might think they are smart, but they obviously do not know securities law. Ignorance is no excuse. Brokers' transaction records are hard evidence. The perpetrators should serve time."
The 5: How can they be "conspiring" when they're doing it for all to see on an internet message board?

And with thousands, perhaps tens or hundreds of thousands, of participants in the short squeeze? You want all of them to "serve time"? C'mon, America already incarcerates a bigger percentage of its population than any other country on Earth.
Just take a deep breath…
"While I enjoy The 5 Min. Forecast and often find some interesting nuggets…
[Interesting variation on the "I like The 5 but" trick: Put "while" at the beginning. We like it!]
"The following comments denigrate all the great information you share."
The reader refers to this passage that appeared yesterday in an ad for one of our entry-level paid newsletters…
"Of course, it's your page and you can say what you want and voice your opinions — it feels conspiratory.
"Look, many folks would have preferred that Trump won, but he didn't — it wasn't 'corrupt media.'
"I know you are smarter than this and believe the courts and every lawyer that has addressed the situation. These kinds of comments continue to divide us.
"(And I voted for Trump.)"
The 5: Quick summation of a long-standing policy: There's no "company line" that we enforce around here with our editors. We encourage them to speak as freely as possible.
And so — for instance — while Jim Rickards sees a resumption of the corona-recession just around the corner, Zach Scheidt is sanguine about what vaccines and reopenings mean for many sectors of the economy, even now. The differences of opinion help keep things lively around here.
Naturally, this policy extends from the opinions of our editors into the marketing for their products. If an editor has an opinion about the election's outcome, and a copywriter feels that opinion can be parlayed into helping make a sale, well, you saw the result in that ad.
Obviously the ad didn't ring true with you… and if enough people agree with you, sales will suffer and the ad won't be around for long.
For the record, and as a reminder, your managing editor's venture into the post-election quarrel managed to offend everybody — which is the place where I'm usually most comfortable and where I figure I've come closest to the truth. Heh…
Try to have a good weekend,
Best regards,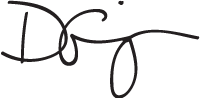 Dave Gonigam
The 5 Min. Forecast