November 5th, 2021
5 Min Forecast
A maddening twice-yearly ritual…
… wreaks health, safety and economic havoc
Daylight saving time: brought to you by a raft of lobbyists.
Employment numbers rebound. Finally
S. and Canadian employees beat feet (vaccine mandate)
A bleak vaccine mandate workaround… Boomer's First Friday band repertoire (Nice!)… And more!

"Frequent and uncoordinated time changes cause confusion, undermining economic efficiency," wrote economist Allison Schrager in The Atlantic in 2013.
"There's evidence that regularly changing sleep cycles, associated with daylight saving, lowers productivity and increases heart attacks."
As part of a maddening twice-yearly ritual… most of us will change our clocks this weekend, returning to standard time from daylight saving time.
And so we beg your indulgence for one of our occasional DST rants. There's a personal motivation here — DST gets harder and harder on your editor as the years go by — but there's no shortage of economic angles as well.
Cato Institute senior fellow Scott Lincicome highlighted a few of them recently, denouncing DST as "an onerous state time mandate detrimental to public health and safety, manipulated by corporatists, supported by a handful of childless insomniac socialites and based on so-called 'science' debunked decades ago."
Tell us how you really feel, Mr. Lincicome!

To begin with, any claims of energy conservation are fanciful.
Fifteen years ago, those claims were put to the test in the most scientifically rigorous manner possible.
Up until 2006, most of Indiana's 92 counties observed year-round standard time — in sync with New York during the winter and Chicago during the summer. Then the Hoosier state's legislature opted for conformity.
In 2010, researchers from Yale and the University of California, Santa Barbara concluded the energy saved by less indoor lighting during the summer months was offset by an increase in the use of heating and air conditioning. Indeed, daylight saving time contributed to a 1% jump in electricity use.
An earlier study came to a similar conclusion. "The policy," Lincicome writes, "cost Indiana households an extra $9 million per year, plus annual 'social costs of increased pollution emissions that range from $1.7–5.5 million' — costs that the authors predict are likely even higher in other parts of the United States.
"Indeed, DST's net energy drain is probably even bigger today, as it's been extended into November (thus raising heating/cooling costs) while electricity savings from keeping the lights off have shrunk because today's light bulbs are more efficient (and thus cheaper to keep on)."

"The policy also imperils Americans' health and safety," Lincicome continues.
"For starters, the semiannual time change results in all sorts of maladies in the days thereafter: car crashes and pedestrian deaths; workplace injuries; heart attacks and strokes; depression; and 'adverse medical events' because of 'human error.' (Mental note: Don't get hurt/sick on time-change weekends.)"
Last year, the American Academy of Sleep Medicine, in conjunction with a host of other medical groups, published a position paper in the Journal of Clinical Sleep Medicine.
Their recommendation — adoption of year-round standard time. That's what would be "best aligned with human circadian biology and has the potential to produce beneficial effects for public health and safety."

Alas, we're at the mercy of special interests — and have been ever since DST was adopted outside of wartime with passage of the Uniform Time Act of 1966.
Contrary to myth, that wasn't done for the benefit of farmers. Indeed farmers "now had an hour less of morning light to milk their cows and get goods ready for market," wrote Michael Downing in his 2005 book Spring Forward: The Madness of Daylight Saving Time.
Rather, the mid-1960s change was the doing of Big Oil — which benefited from higher gasoline consumption during the longer evenings.
But the history doesn't end there. Lincicome again: "The gas and fuel industries were then joined by the golf, home improvement and barbecue/patio industries to lobby for the 1986 expansion of DST from six to seven months, because each industry gained hundreds of millions in additional sales revenue each year."
Finally in 2005, seven months of DST became the current eight — "driven," writes Lincicome, "by the National Association of Convenience Stores (NACS) and U.S. candymakers, each of which wanted Halloween to occur during DST because it boosted candy and, again, gasoline sales."
Now you know.
And four months hence, when we "spring forward," the abrupt shift might actually impact the outcome of earnings season — at least according to one study. But we'll hold off exploring that twist in the story until then. We have other business to attend to…

Nearly every asset class is benefiting today from a better-than-expected jobs report.
The wonks at the Bureau of Labor Statistics conjured 531,000 new or revived jobs for the month of October — more than expected. In addition, they revised the September and August figures upward.
Here's how that translates on the big chart from Calculated Risk, plotting the job losses and recoveries from every post-WWII recession.
The takeaway from the red line is that finally — after 21 months — we're in a better place than we were during the worst of the nasty recessions in 1973–75 and 1980–82. (Click the chart to embiggen…)
But even now, 4.2 million fewer people have jobs now than was the case in February 2020.
The official unemployment rate fell from 4.8% to 4.6%. But the real-world unemployment rate from Shadow Government Statistics held steady at 25.1%. This figure incorporates part-timers who want to work full time, as well as the legions who've just plain given up looking for work.
Still, it's the official numbers everyone watches — and thus the major U.S. stock indexes will likely end the week setting records.
At last check, the Nasdaq has crested 16,000… the S&P 500 has surpassed 4,700… and the Dow is 70 points away from 36,500.
Rallying strongest are small caps, which have been playing serious catch-up in recent days; the Russell 2000 is up 1.5% to a record 2,439.
Precious metals are joining in the fun, gold back above $1,800 and silver over $24. (Nice, but no evidence of a successful short squeeze planned for today by the "apes" at Reddit's WallStreetSilver board.)
Crude, which dipped below $79 yesterday, is within a quarter of $81 again.
The activity in cryptocurrency looks positively tame. The major cryptos are in the red, but not by much — Bitcoin still holding the line on $61,000.
Technology is still capable of transforming the real estate market. It's just that Zillow won't be the company to do it.
This week, Zillow gave up on its iBuying business and cashiered a quarter of its workforce.
"In case you're not familiar with the term," says our tech maven Ray Blanco, "iBuying (or instant buying) is the new business of companies buying homes sight-unseen using AI models that predict what the market price is likely to be.
"In theory, Zillow would buy a home for about 95% of market value, make some small improvements and flip it for a 4–5% return" — generating $20 billion a year.
In practice, however, Zillow racked up staggering losses. "According to Insider, of 1,000 homes listed for sale in Zillow's five biggest markets, 64% were being marketed for less than the company paid for them. Turns out predicting home prices is really hard — and much riskier than Zillow's core ad business."

The problem is one that perhaps you've identified yourself if you ever scoped out Zillow's preposterous "Zestimates" in your own neighborhood, where you know the score.
"The Zestimate might be great at predicting prices in the aggregate," Ray says, "but fails to identify individual situations where a house might have flaws that keep real human buyers from bidding aggressively in this market.
"That creates a real problem for an iBuying program that leans heavily on algorithms versus one that has some level of human intervention in the offers it makes."
Still, Ray believes real estate is one of the markets most prone to disruption right now. "Fees charged on real estate transactions by everyone involved in the process are absolutely massive. A typical middle-class family pays a five-figure slug of cash when they buy or sell a home.
"I think that disruption is a massive opportunity in this space, and it's going to be enabled through transformational technology like artificial intelligence, the metaverse and 5G." Stay tuned…

Back to the job market: For the first time we're aware of, corporate media are making a systematic attempt to track how many people at major employers would rather walk than take a COVID shot.
"From Boeing to Mercedes, a U.S. Worker Rebellion Swells Over Vaccine Mandates," says the headline on a story from the Reuters newswire. The article enumerates the following, in some cases relying on anonymous sources…
More than 8,000 workers at Boeing have sought medical or religious exemptions — about 6% of BA's workforce
Greg Hayes, CEO of the defense contractor Raytheon, says he will lose "several thousand" employees because of the mandate on federal contractors
Fewer than half of Mercedes' workers at U.S. import processing centers are vaccinated, mandate notwithstanding. (The company says the rate is higher at its other U.S. operations)
And this: "A group representing FedEx Corp., United Parcel Service Inc. and other cargo carriers said it would be virtually impossible to have all their workforces vaccinated by the deadline." That's a reference to the Dec. 8 deadline for federal contractors — which yesterday was pushed back to Jan. 4, coinciding with the mandate for all private employers of 100 or more people.
As we said again just yesterday, FedEx, UPS and Walmart will be the big tells for how the mandates will interact with the supply-chain mess the next few weeks.
Meanwhile, we perked up at news from Canada: The country's two most populous provinces, Ontario and Quebec, have rescinded their vaccine mandates for health care workers. "Implementing a province-wide vaccine mandate for hospital workers can negatively impact the care patients receive," said Ontario Premier Doug Ford.
The part about "Please come back to work now" was merely implied.
"Employers whose headcount exceeds 100 make up the lion's share of the American economy," writes a reader who's a lawyer, responding to our main topic yesterday.
"Unfortunately, my company is within the scope of the ETS mandate. We are still struggling to hire employees, although hiring improved after Labor Day (i.e., the day the freebies died).
"My workforce is roughly 60% vaccinated, at best. Knowing this ratio with certainty is now a requirement under the ETS. If my unvaccinated employees say, 'Screw this, I am going to work for a company that doesn't require the jab or tests,' and we lose them, we could potentially be put out of business.
"This ETS from OSHA is an existential moment for my company. Meanwhile, most of the employees who have gotten COVID over the past several months are vaccinated!! Somebody has to stop this insanity."
The 5: Another wrinkle: Put yourself in the shoes of someone who owns a company employing, say, 110 or 125 people… and you just opened the PDF of the final rules, formally published today in the Federal Register, formatted as 154 pages of small font and three columns per page.
Do you begin to contemplate how you'll comply? Or do you just say, "To hell with it," and slash your headcount a little below 100?
Would suck to do it just before the holidays, but is easy to envisage…
"While this boomer certainly doesn't agree with your initial assessment of my ilk," a reader writes, "I'm pretty disillusioned with them myself, hence not writing in.
"Regardless of age, too many people are being led… by the nose? by the media? into a fear they are incapable of rejecting. People are no longer taught to question authority (a comment I've made to you before!). One statement will never apply to all, but it certainly isn't a stretch to say the world's going nuts for all manner of stupid reasons.
"P.S. I'm singing 'Stuck in the Middle with You' with my band this evening for a First Friday… and in case you wondered, we'd added it to our repertoire just before you made the comment back to me in The 5 a few months ago when I wrote in about not agreeing with either side!"
The 5: Nice!
Have a good weekend,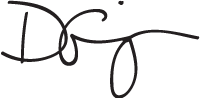 Dave Gonigam
The 5 Min. Forecast