March 1st, 2021
5 Min Forecast
No driving, no red meat, no oil drilling…
… No problem if you're in an ivory tower!
Good news: Fed discards useless textbooks
Bad news: Fed is totally winging it now
Anti-climax: Yellen signs off on new SDRs
Repairmen or copper thieves?…factory activity runs hot (too hot?)… a brewery's oddly timed promotion…

Sometimes the power elite is a little too honest with us peasants…
On Friday, the World Economic Forum — the outfit that hosts the elite shindig in Davos, Switzerland, most every year — posted the above tweet, along with a video noting a record drop in carbon emissions thanks to the pandemic lockdowns.
The outrage and mockery came fast and furious. Within 24 hours, the WEF deleted the tweet — while still trying to simultaneously have and eat its cake: "Lockdowns aren't 'quietly improving cities' around the world. But they are an important part of the public health response to COVID-19."
Uh-huh.
We hasten to point out this "lockdowns for better climate" thing is not new. Ten long months ago we took note of how a bunch of celebrities and scientists signed a declaration saying, "We believe it is unthinkable to 'go back to normal.'"
But last fall brought a new twist…

"The world may need to resort to lockdowns again — this time to tackle a climate emergency," wrote economist Mariana Mazzucato.
"Under a 'climate lockdown,' governments would limit private-vehicle use, ban consumption of red meat and impose extreme energy-saving measures," she went on, "while fossil-fuel companies would have to stop drilling. To avoid such a scenario, we must overhaul our economic structures and do capitalism differently."
Ms. Mazzucato's article, published at the Project Syndicate website, is getting fresh attention in recent weeks — perhaps because of a piece by Stephen L. Miller at The Spectator.
And yes, she has the ear of the political set in Washington — on both sides of the aisle. According to a 2019 softball profile in The New York Times. Rep. Alexandria Ocasio-Cortez (D-New York) has met with her to discuss how her ideas might fit into a "Green New Deal." Sen. Marco Rubio (R-Florida) cited her work in a proposal to goose economic growth via massive government intervention. (That's what she means by "doing capitalism differently." But you probably already figured that out, right?)
We won't dwell on the subject this morning. It's just a word to the wise. The elites realize they pressed their luck — this time. It won't be the last.

To the markets — where the freakout over rising interest rates might be over for now.
At last check, all the major U.S. indexes are up more than 2% on the day — the Dow roaring past 31,000 again, the S&P 500 within spitting distance of 3,900 and the Nasdaq approaching 13,500.
"I still suspect the 'reopen' plays will remain trader favorites for the next several weeks," ventures our chart hound Greg Guenthner. "The Johnson & Johnson vaccine news is certainly bullish for reopening, and I believe there are many traders out there who are looking to rotate into some of these still-unloved stocks."
After peaking last Thursday at 1.61%, the yield on a 10-year Treasury note is back to 1.42% this morning. In the scheme of interest rates, that's a huge move back down in two trading days.
Precious metals are getting their footing after last week's clobbering, gold at $1,740 and silver at $26.87. Crude is also stabilizing at $61.57. Bitcoin is staging a big recovery from a low under $44,000 yesterday, now $49,316.
The big economic number of the day is the February ISM Manufacturing Index. It clocks in way higher than expected at 60.8. Anything over 50 indicates growth… but this number is looking too hot. Most of the "internals" of the report are also sky-high — the "prices paid" component alarmingly so at 86.0.
That means manufacturers are running into supply-demand imbalances and the question going forward is how much of their higher costs they'll choose to eat and how much they'll pass along to you and me.

With the benefit of a few days' hindsight, the market freakout might be a case of adjusting to a change in mindset at the Federal Reserve.
In the first place, the freakout has been minor in the scheme of things. Peak to trough, the drawdown in the S&P 500 was 3.1% in two weeks. We've had steeper declines several times in just the last six months — including in late January.
Anyway, on Tuesday, Federal Reserve chair Jerome Powell testified to a Senate committee. As the Reuters newswire summarized it: "Toss out the college textbooks, because the world has changed."
(Not that the textbooks were ever reliable — just that even mainstream economists no longer find them relevant, heh…)

For one thing, Powell made clear the Fed no longer cares about the official unemployment rate — because the number doesn't reflect the legions of people who've given up looking for work.
We've had that complaint ourselves for as long as we've been publishing this e-letter — nearly 14 years. People who'd given up looking for work were excluded from the number to make it look better than it really was. But for whatever reason, Powell and co. have decided that's now a problem when measuring unemployment driven by a pandemic and lockdowns.
Thus, the Fed is now concerned about the red line on this chart that we've shared every month for nearly a year now — and getting it back to the zero level.
Click to enlarge
Of course, that will mean massive money printing… and the Fed is likewise no longer concerned about what that means for conventional measures of money supply like "M2."
"Right now… M2… does not really have important implications," said Powell. "It is something we have to unlearn I guess."
If they're not concerned about money supply, then they're not concerned about inflation, either.
Of course, we knew that already when the Fed said it was willing to let inflation run over its 2% target because inflation has spent so much time under that target.
But hearing Powell say M2 doesn't matter anymore must've been jarring for your average denizen of Wall Street who still looks at the M2 because it's what he or she has always done.
That, as much as anything, might have been the catalyst for a U.S. Treasury auction that attracted precious few bidders last Thursday — which sent the rate on a 10-year T-note spiking.
But traders are adjusting to the new reality and rates are climbing back down. At least for the moment.
Then again, the jump in interest rates might have had very little to do with the recent stock market sell-off. Bull markets just need a breather now and then… but the media are forever trying to find "reasons" when the Dow or the Nasdaq go into a slump.

For the record: Treasury Secretary Janet Yellen has signed off on a new issuance of "world money." As if there were any doubt.
As we mentioned last week, the International Monetary Fund is looking to issue perhaps $500 billion in "special drawing rights" — which is the IMF's super-currency circulated among governments and central banks.
The IMF has issued SDRs in three rounds going back to 1969 — each round coinciding with a crisis of confidence in the U.S. dollar.
A fourth round has been on the table for a few months, but the IMF has to engage in a certain amount of kabuki theater so as not to spook the markets. And so a story's been concocted about how this fourth round would help shore up shaky emerging markets suffering from the pandemic.
Given that the real purpose of SDR issuance is always to shore up the dollar… Yellen's assent was a foregone conclusion.
As it turns out, finance ministers from the G20 countries did not give final approval to the scheme. No word yet when it will come… but the wheels are definitely in motion.

Sign of the times: With copper prices back above $4 a pound, copper theft is becoming a more complex and organized affair.
From Miami's WSVN-TV: "Police have arrested five men accused of stealing underground copper wire belonging to AT&T in Homestead as part of an elaborate scheme."
"Elaborate" might be overstating it, but not much: Cops say the men looked for all the world like construction workers — hard hats, fluorescent vests, even specially equipped trucks.
If they hadn't been busted early yesterday, the payoff would've been big for a morning's work — the wire's scrap value was about $30,000.
Ah, it's like old times again for The 5. A decade ago, when copper was this costly, we related a host of both ingenious and idiotic copper thefts.
Or simply daring — our favorite remains the disappearance of copper tubing from a high-voltage TV transmitter in Kansas City. Somehow the thieves managed to avoid getting zapped by 35,000 volts of electricity or scalded by the coolant flowing through the tubing.

Inspired but not necessarily well-timed marketing: A common Midwestern mispronunciation has become fodder for a peculiar promotion.
Leinenkugel's — the cult-favorite Midwestern beer brand owned by Molson Coors — is rolling out its popular Summer Shandy in select locations this week.
As you might be aware, the calendar hasn't yet turned to spring much less summer. Thus, the marketers got the idea for a sweepstakes. The grand prize — a branded ice shanty.
Writes Marnie Shure at The Takeout, "The idea for the shanty is rooted in a frequent mistake made by Leinie's drinkers, who call it 'Summer Shanty' instead of 'Shandy,' the latter referring to a beer mixed with citrus flavors and the former being a protective hut used by ice fishermen on the surface of frozen lakes. Both shandies and shanties scream 'Wisconsin,' so the brewery decided to bring them together in holy promotional matrimony…
"The ice shanty, valued at $50,000, comes with a built-in furnace, light therapy, 'classic lake house' tchotchkes, a grill and a supply of Summer Shandy beer."
The tricked-out Shandy Shanty: Nice, but couldn't they make the Photoshop job a little less obvious? [Leinenkugel's image]
Here's the thing, though: The entry deadline is March 11… and per the Wisconsin Department of Natural Resources, permanent ice shanties must be taken off all state waters by March 15. (Further north in Michigan's Upper Peninsula — often mistaken as a part of Wisconsin — the deadline is March 31.)
Well, something to look forward to next year, anyway…
To the mailbag, ending today's episode of The 5 where it began: "I couldn't agree more with Friday's reader on the pseudoscience politicians are following, be it on COVID-19, energy production or climate change.
"To fix any issue it is smart to first identify the true source of the problem, so that the 'cure' isn't just a costly waste of time at best or even worse than the disease or problem it seeks to cure, and second to make the cost-versus-benefit analysis.
"None of these seem present in our current political/media climate masquerading as science/journalism."
The 5: You can't have an honest discussion about any of these issues without addressing the overarching "who decides" issue.
"Let me tell you what the most dangerous policy action in the world is," said the former investment banker and federal official Catherine Austin Fitts in 2014.
"It is to decide that a phenomenon such as climate change is our No. 1 problem, that we need urgent action on it before understanding who is going to control the policy discussion and implement the solutions. Build a consensus that man-made climate change is our No. 1 problem and I assure you that our mystery governance system will use it to achieve a global taxation system and more centralized control."
The power elite tries to short-circuit the discussion by making sweeping pronouncements about how "the science is settled" — as if climatology or epidemiology are as cut-and-dried as Newtonian physics, so of course their top-down, central-planning solutions are the only sensible ones. You're not a flat-Earther, are you?
Then they go just a bit too far and venture how "lockdowns are quietly improving cities around the world"… and suddenly the masses wake up.
Well, for a few moments anyway. Didn't Donald Trump just say something outrageous? What about those wacky tech failures at the Golden Globes? And what are the Harkles telling Oprah now?
Best regards,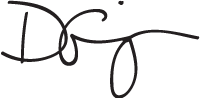 Dave Gonigam
The 5 Min. Forecast