June 2nd, 2022
5 Min Forecast
Jamie Dimon disrupts the space-time continuum
Jim Rickards on an economic "reign of terror"
Saudi Arabia… and déjà vu all over again
Flashback #1: "Corrupt, corporate shill" Sheryl Sandberg
Flashback #2: HRC's lawyer Michael Sussman (hopes dashed)
Flashback #3: Economic origins of 2020 protests and riots
"Credit where credit is due" (peanut butter update)… Viva Las Vegas (safeguarding Elvis-themed weddings)… And more!

Something's gone wonky in the space-time continuum when JPMorgan Chase CEO Jamie Dimon starts sounding like our own Jim Rickards.
"You better brace yourself," Dimon said yesterday at a conference in New York. Of coming economic conditions, he says, "It's a hurricane."
"Everyone thinks the Fed can handle this. That hurricane is right out there. Down the road. Coming our way. We just don't know if it's a minor one or Superstorm Sandy."
If you're a longtime reader, you know we hold no brief for Dimon and JPM around here. We cited money manager Barry Ritholtz in 2013: "Fortress Dimon. Its walls are made of lawyers, and its moat is made of burning money. Something is wrong with a board of directors that tolerates this sort of egregious incompetency and/or rampant illegality."
And that was before JPM admitted to an unprecedented five criminal counts between 2014–2020 — which is five more guilty pleas than it racked up in the previous 100 years.
Anyway, Dimon's concerns are twofold: He worries about the fallout from the Federal Reserve reducing its balance sheet — a process that began yesterday. And he worries about the Ukraine war driving up commodity prices — including the prospect of oil shooting up to $150–175 a barrel.

Dimon's not wrong… but he's behind the curve. Jim Rickards has a much more fundamental worry than an economic "hurricane" now.
Jim's more concerned at this stage about an economic reign of terror.
He paints a vivid and harrowing word picture at the start of a brand-new presentation — one that's geared toward an audience not yet familiar with his body of work.
It begins with an unsettling stop at the gas station, where you're told cash is no longer accepted… and ends mere hours later with the sound of sirens, breaking glass and possibly gunfire within earshot of your home.
In between, the ATMs stop working and thousands of Americans learn they're getting "de-banked" — their accounts frozen, just like the Canadian truckers in February.
It's all wrapped up in an event Jim calls "C-Day."
Only a few months ago, the whole thing would have seemed too far-fetched. Now the possibility seems all too real.
Jim's been thinking about it for years… but only now does he feel as if folks are finally ready to hear his message. You can click here and decide for yourself whether it's convincing.

To the markets — where the big stories today are oil and Microsoft.

As we write, leaders of the OPEC+ nations have agreed to open the spigots wider — upping the size of their planned summertime production increases by about 50%. That's according to Bloomberg; the official announcement is yet to come.
It's likely the bulk of that increase will come from Saudi Arabia. "Saudi Arabia has indicated to Western allies that it is prepared to raise oil production should Russia's output fall substantially under the weight of sanctions," according to the Financial Times.

An inconvenient question: What if Saudi Arabia is physically incapable of meeting that commitment?
It's not exactly a new question, either: The late Matthew Simmons, an investment banker who catered to the energy industry, published a lengthy book in 2005 called Twilight in the Desert. It made a compelling case that Saudi Arabia's oil reserves are smaller than advertised — not least because the kingdom hasn't adjusted its estimate of those reserves since the late 1980s. It's been a suspiciously steady 268 billion barrels for the last 35 years.
Simmons died in 2010… and by 2012 his inconvenient questions were long forgotten as the shale/fracking revolution in the United States brought bountiful new supply to the world market. U.S. production doubled in the space of only eight years — putting America on par with Saudi Arabia and Russia as the top three producers.
But with the Biden administration's "green" agenda impeding U.S. production… and Russian oil under ever-tighter sanctions… it's all coming back to Saudi Arabia again. Just like the bad old days.
Does Saudi Arabia really have the "spare capacity" its leaders claim to have? If not, Jamie Dimon's outlook of $150–175 oil is entirely plausible.
In the meantime, the oil price has been jumping up, down and all around with every new rumor this morning — including one about Joe Biden paying a visit to the kingdom this month. At last check, a barrel of West Texas Intermediate fetches $117.10.

Meanwhile, Microsoft is proving a drag on the Dow.
Barely a month after reporting its first-quarter numbers, MSFT is already "guiding lower" on both revenue and earnings for the current quarter. The company cites the strength of the dollar relative to other currencies — which makes MSFT's products more costly for foreign customers. (Our Zach Scheidt warned us about this phenomenon a month ago.)
Microsoft shares are down nearly 2% as we write. The drop is having its most measurable impact on the Dow — seeing as MSFT comprises 5.5% of the index. The Big Board is down about 0.2% to 32,761.

In contrast, the S&P 500 is up about 0.2% after dipping down to the 4,100 level at yesterday's close. And the Nasdaq is up nearly 0.9%, back above 12,000.
Precious metals are catching a bid — gold up to $1,866 and silver at $22.20. But the major cryptos are looking frail, Bitcoin back below $30,000 and Ethereum — eek — slipping below $1,800.
5 Min. Flashbacks, Part 1: "Corrupt, corporate shill" Sheryl Sandberg is stepping down as chief operating officer at Facebook parent Meta Platforms.
After 14 years, "It's probably time for me to have more flexibility and more ability to do more things with my time," she said in a media interview.
But at 52, she's still young. Business Insider is among the outlets speculating she might pursue a political career, perhaps running for Senate in California if an aging Dianne Feinstein steps aside in 2024.
Hmmm… Maybe by that time everyone will have forgotten all the reasons Sandberg became such a despised figure a few years ago — "just another corrupt, corporate shill" as an ex-fan posted on her Facebook page in 2018.

It was in that year Sandberg's fall from grace was the occasion for us to explore "How Harvard Business School Wrecked the World."
As HBS' most visible female alum, Sandberg is a valuable poster child for the sickness that suffuses much of corporate America. Her sketchy ethical compass was inculcated in part by the entire culture of HBS — a weird kind of amoral certainty — which has filtered down to almost all of American business culture.
It's not hard to see how that culture has led to one debacle after another in the 3½ years since our write-up. For instance, the aforementioned felonies racked up by JPMorgan Chase. (Bonus points: Dimon is an HBS alum.) Or the twin crashes of Boeing's 737 MAX passenger jets. Or the broken promises that mRNA vaccines would prevent both infection and transmission of COVID-19.
"Heckuva job," as George W. Bush — also an HBS alum — said in another context.

5 Min. Flashbacks, Part 2: Hey, we said the fix was in.
Perhaps you saw the news: A federal jury acquitted Hillary Clinton campaign lawyer Michael Sussman on charges of lying to the FBI.
Sussman was supposed to be the biggest scalp claimed by special prosecutor John Durham — appointed during the Trump administration to investigate the origins of "Russiagate."
And while the trial proved conclusively that Donald Trump's alleged connections to Russia's Alfa Bank were a hoax, Durham couldn't get the job done.
Conservatives were looking to Durham as a savior just as liberals looked to Robert Mueller a few years back. We said in the summer of 2019 their hopes would be dashed. Both Durham and the guy who appointed him — Trump's attorney general William Barr — have way too many deep-state ties. You heard it here first.

5 Min. Flashbacks, Part 3: It's two years to the day since we unpacked the economic origins of the protests and riots that were raging in the late spring of 2020.
We don't have much to add on this one… except to point out the three uncomfortable questions we posed that day still have no satisfying answers. If anything, the answers are even more elusive now.

"I just thought I would send you a follow-up note on the improved situation with the Jif peanut butter recall," begins today's mailbag.
"A couple of days after you published my original note, the J.M. Smucker Co. (at least on its Jif.com website), created a Jif recall-specific web page, without the requirement for entering one's birth month and year.
"I understand that if you want them to send you a refund check, they will need your name and address to send it to, and maybe at least one of your email address or phone number, and preferably a photo of your receipt and the Jif jars with the contaminated batch numbers on them — that makes sense.
"They decided NOT to do checks — they're going with coupons. Kinda lame, and a tacky attempt to keep you from defecting to Skippy or brand X. And they could do the coupons by email, without your street address or phone. But at least it backs off on some of the 'data mining.'
"They also authorized the retailers to hand out refunds, on credit or debit cards or in cash.
I actually got BOTH a notice/request on a later food purchase receipt AND an automated phone call from Kroger to stop eating the Jif and come get a refund. They had linked my Kroger rewards card with my previous Jif purchase and my phone number.
"This was excellent on the part of both Kroger and J.M. Smucker. I don't know who came up with that idea — it could have been anyone at Smucker or any of the retailers. My best guess is that someone high up in a big retail chain leaned on the top brass at Smucker. But it's a win-win for everyone:
(a) "customers get money back and the option to defect to Skippy or brand X — but people know that food plant contamination happens — they just want it handled well;
(b) "the stores maintain a better and manufacturer-neutral PR situation with their customers; and
(c) "J.M. Smucker Co. doesn't have to send out coupons to a zillion people; it only has to reimburse a few thousand stores or a few hundred retail companies, or maybe just a few dozen distributors.
"It may or may not risk more defections to Skippy and brand X, but it probably makes up for that in admin. cost savings and far fewer seriously peeved customers.
"Anyway, my congratulations and thanks to J.M. Smucker Co., the retailers and whatever combination of their people arranged for more sane heads to prevail. Credit where credit is due.
"Thank you again for your attention and your good work!"
On the subject of a licensing firm leaning on Las Vegas wedding chapels to cease and desist with Elvis-themed weddings, a reader writes…
"Perhaps the chapels can convince a court that Elvis has become a 'proprietary eponym.'
"Proprietary eponyms are brand names for products that are so popular that they become commonly used for the product even if it's made by a different manufacturer. Some examples include 'kleenex,' 'jello,' 'band-aid,' 'white out,' 'frisbee' and 'scotch tape.'
"Older folks may even remember 'fridge' from Frigidaire refrigerators, 'xerox' from Xerox copy machines and 'windex' from Windex glass cleaner.
"On the other hand, when I was in the Army we were encouraged to call Velcro — another trademark — 'hook-and-pile fasteners,' but many of us opted for 'static patches.'"
"To the Las Vegas chapels facing the Elvis ban: Simply convert into a lounge where Elvis performs 40 shows nightly in the hit show Let's Get Married where you too can star right alongside Elvis. He'll even autograph your marriage license after the show.
"Problem solved."
The 5: Well, that conceivably does fall under Nevada law's exception for Elvis impersonators, no? Like it!
Best regards,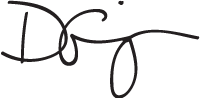 Dave Gonigam
The 5 Min. Forecast